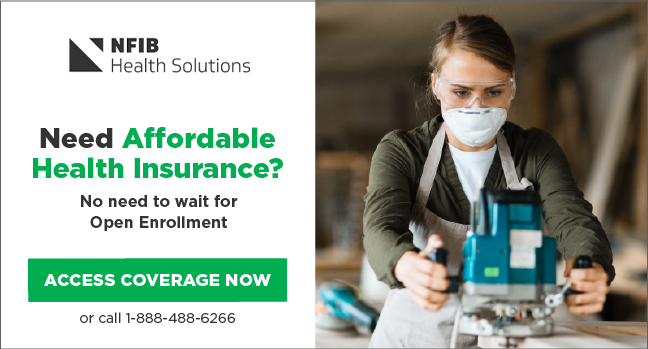 NFIB Health Solutions can help you shop for alternative coverage options, which you can enroll in now. These plans1 are an affordable alternative for people that want health insurance for an unexpected illness or injury. Options include Non-ACA/Non-Obamacare term medical plans2, and new this year, a Long Term Major Medical program with rate guarantees3 up to 36 months.
Find the following Solutions:
Greater savings – lower deductibles and out-of-pocket costs
Non-ACA plans for up to half the cost of ACA plans, in some cases
Access to more doctors, hospitals, office visits, labs, surgeries
Affordable monthly premiums
You can also find supplemental coverages to round out your or your employees' insurance needs.  NFIB Health Solutions is also the place for accident, dental, critical illness plans, and more.
Enroll in a Plan in Minutes.
or call 1-888-488-6266
1 Plans are enrolled by AHIX.com, a division of JLBG Health. Plans may vary and are not available in all counties/states. In some cases, they may be unable to enroll you in an ACA plan because of contractual agreements. In this case you will be directed to a government website to enroll.
2 Term Medical Plans (Non-Obamacare plans) are medically underwritten and do not cover preexisting conditions. These plans do not meet the minimum essential coverage requirements under the Affordable Care Act (ACA).
3 Plans with guaranteed rates may vary and are not available in all counties/states. Speak with one of our licensed insurance representatives for more details.