Longtime member recognized for service to Ohio entrepreneurs
NFIB, Ohio's leading small business advocacy organization, has named Bev Beery of Beery Insurance Services LLC in Lima as its 2022 Small Business Champion for Ohio. The award honors NFIB members who go the extra mile to help promote and protect the rights of Ohio's small businesses.
Beery is vice-chair of the NFIB Lima Area Action Council and attends the NFIB statewide Leadership Council in Columbus, Ohio. She has attended many of the NFIB Small Business Days at the Capitol in Columbus where she has served as a sponsor.
"Bev Beery exemplifies what it is to be a Small Business Champion," NFIB State Executive Director Roger Geiger said. "She volunteers her time to the small business community, not just with NFIB but many other community organizations like her local chambers of commerce and on the state level on the board for Ohio Excels. She helps get small business owners engaged in service and advocates on issues important to entrepreneurs with her elected officials. We are proud to recognize her with this honor."
Each year, NFIB names a Small Business Champion from among its membership of over 21,000 Ohio small businesses. This individual not only gives of their time and resources to promote small-business causes through involvement in NFIB activities but also demonstrates a spirit of service toward the community and a commitment to advancing the concept of free enterprise.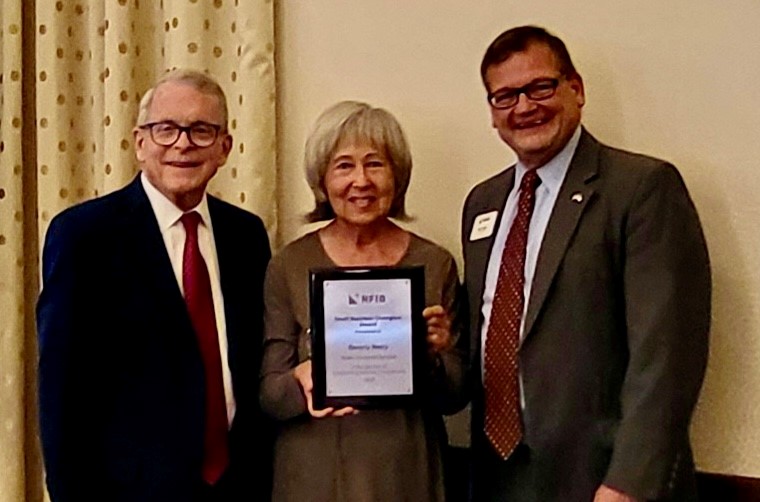 "I am so honored to be the recipient of the 2022 Small Business Champion Award by the National Federation of Independent Businesses here in Ohio," Beery said. "Being asked to serve as the vice-chair for the local Area Action Council, attend statewide Leadership Council meetings, and be a spokesperson for all small businesses has given me motivation and drive to support and encourage all small business owners to be involved. NFIB is an inspiration for me. I see how hard they fight for us. Having started my insurance agency almost 40 years ago, I know the struggles and hard work it takes. To be recognized just gives me more desire to represent NFIB in my community and make a difference." 
Since 1985, Beery has owned Beery Insurance Services, a 34-year NFIB member business that offers reputable coverage options for health insurance, including life insurance, dental insurance, vision insurance, and more. The firm works with business groups and individuals to enroll them in insurance that fits their needs.
Beery was also recognized as a 2018 Jefferson Award Winner for her dedication to Family Promise. She has been working with them for the past 13 and half years to continue their mission of helping displaced families. The Jefferson Awards were founded in 1972 by Jacqueline Kennedy Onassis, Sen. Robert Taft Jr., and Sam Beard. They have been a part of the Lima region since 2001. Bev is also very active with her local schools and regularly mentors and tutors at-risk children.