A true friend Main Street, mom-and-pop enterprises could use more of in Sacramento
FOR IMMEDIATE RELEASE
Contact: John Kabateck, California State Director, 916-956-9027, John.Kabateck@nfib.org
or Tony Malandra, Senior Media Manager, 415-640-5156, Anthony.Malandra@nfib.org
SACRAMENTO, Calif., Sept. 30, 2022—The political action committee for California's largest and leading small-business association today announced its endorsement of Shannon Grove for State Senate.
"Central Valley small businesses have a great champion in Senator Shannon Grove," said John Kabateck, California state director for the National Federation of Independent Business (NFIB), speaking for the NFIB CA PAC, which made the endorsement. "In a Legislature that increasingly cuts deals at warp speed, she has been an effective fighter in making sure small businesses are never sacrificed to political expediency. She's the type of true friend Main Street, mom-and-pop enterprises could use more of in Sacramento. Senator Shannon Grove is small businesses' choice for State Senate."
Grove's new 12th State Senate District includes portions of Kern, Fresno, and Tulare counties.
NFIB's national membership spans the spectrum of business operations, ranging from sole proprietor enterprises to firms with hundreds of employees. While there is no standard definition of a small business, the typical NFIB member employs 10 people and reports gross sales of about $500,000 a year. The NFIB membership is a reflection of American small business. Small-business owners are also a potent political force. Click here for a page of bulleted information on the Power of the Small Business Voice.
Keep up with the latest on California small-business news at www.nfib.com/california or by following NFIB on Twitter @NFIB_CA or on Facebook @NFIB.CA.
###
For nearly 80 years, NFIB has been advocating on behalf of America's small and independent business owners, both in Washington, D.C., and in all 50 state capitals. NFIB is a nonprofit, nonpartisan, and member-driven association. Since its founding in 1943, NFIB has been exclusively dedicated to small and independent businesses and remains so today. For more information, please visit nfib.com.
NFIB California
915 L. Street, Suite C-411
Sacramento, CA 95814
916-448-9904
www.nfib.com/CA
Twitter: @NFIB_CA
Facebook: @NFIB.CA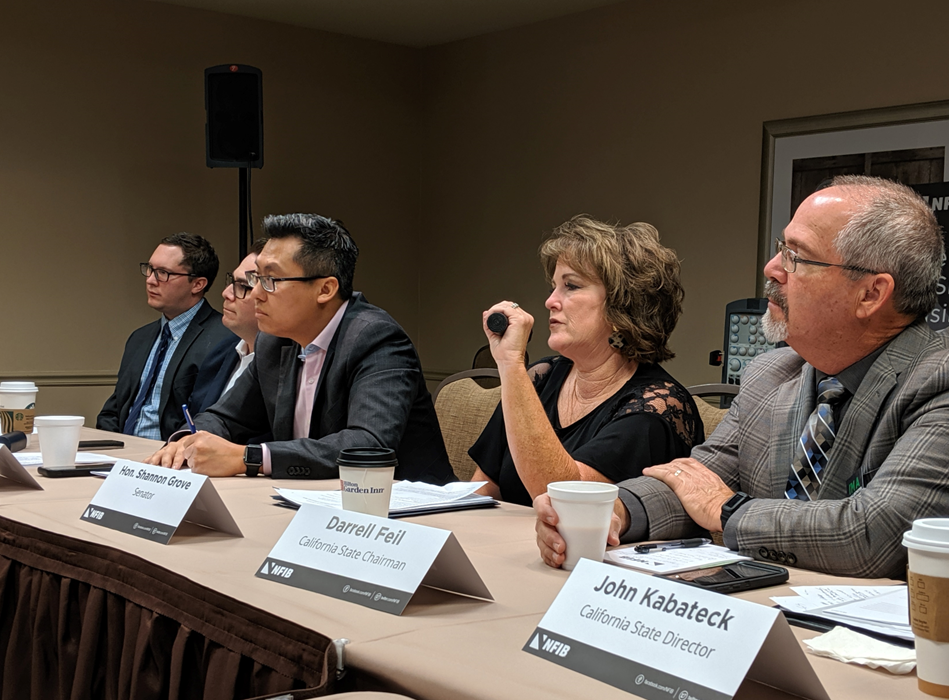 Sen. Shannon Grove and colleague, Assembly Member Vince Fong, speak at a Business Roundtable held by NFIB in Bakersfield.