Up $1.5 billion since November
On February 28, state budget officials announced that the state's record surplus had increased by another $1.5 billion in the last three months. The projected budget surplus now stands at $9.25 billion.
The chart below from Minnesota Management and Budget (MMB) shows increases in individual and corporate tax revenue are driving the growing surplus: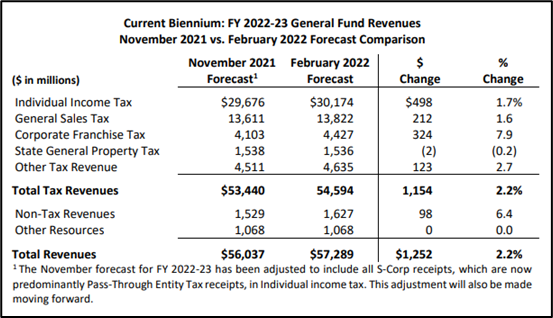 Without action this session, the surplus will grow to an astounding $15 billion in coming years.
It couldn't be clearer that Minnesotans are badly overtaxed and major reform is needed now to give small businesses relief and spur economic growth.
Heading into 2022, the nonpartisan Tax Foundation ranked Minnesota's business tax climate 6th worst in the country, worse than Illinois and by far the lowest in the upper Midwest.
Our neighbors in Iowa were the next worst business tax climate – 13th worst – but their state has taken a markedly different course this year.
In late February, Iowa enacted a major tax reform package that lowers the individual income tax to a flat rate of 3.9% and reduces their corporate rate from 9.8% (t-3rd highest, with Minnesota) to 5.5%. They also eliminated taxes on retirement income.
Around the country, other states are also using surpluses to pursue massive tax relief packages.
There have been several proposals for large scale tax reform this year, but so far Minnesotans are still waiting for relief.
The complete budget forecast is available here: MMB February 2022 Budget and Economic Forecast.
Read more about the original projected surplus here: State Announces Massive Budget Surplus (nfib.com).