NFIB Michigan PAC Backs Tudor Dixon for Governor, Pro-Small-Business Incumbents and Candidates for Legislature
Small business owners and their employees vote in high numbers and are known for actively recruiting friends, family members, and acquaintances to go to the polls. NFIB encourages our MI members to help turn out the small business vote next week on Election Day, Tuesday, November 8th.

 Small Business Supports Tudor Dixon for MI Governor
For governor, NFIB MI PAC endorsed businesswomen Tudor Dixon, a strong, pro-small-business candidate who understands what is needed to support and strengthen Main Street businesses and job creators. Read NFIB's endorsement of Dixon HERE.
NFIB Michigan Backs Pro-Small-Business Incumbent Lawmakers, Challengers for Legislature
NFIB State Director Amanda Fisher announced the slate of endorsed candidates, which also were issued by NFIB MI PAC, the state's most influential and effective small business political action committee.
CLICK HERE for a full list of endorsed pro-small-business incumbent lawmakers. To read the endorsement of pro-small-business challengers and open seat candidates, go HERE.
NFIB Endorses Judges for the Michigan Supreme Court
NFIB MI PAC endorsed sitting Supreme Court Justice Brian Zahra and appellate lawyer Paul Hudson in the two contests on the ballot this year for the state's highest court. Read the endorsement HERE.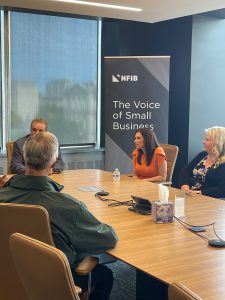 Find your polling place HERE.