In Wichita, Imagine That Toys is getting ready to celebrate their 15th anniversary. Owner Gwen Ottenberg says she got into the world of toys because she knew she wasn't cut out for the corporate world. She constantly heard – "why doesn't Wichita have a cool toy store?"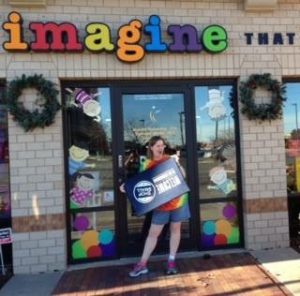 Gwen Ottenberg poses outside her Wichita small business, Imagine That Toys. 
For Gwen and Imagine That Toys, COVID-19 has been a rollercoaster. When she felt it wasn't safe to have customers in the store, they closed the doors and quickly moved to curbside and window shopping. Website, phone, and shipping business also picked up. Adult puzzles were a big seller along with the kid's toys! However, thanks to loyal customers and a lean and well-trained staff, Imagine That Toys is surviving and thriving during the pandemic. That may be because Gwen's favorite part of her job is putting the right you in the right hands at the right time!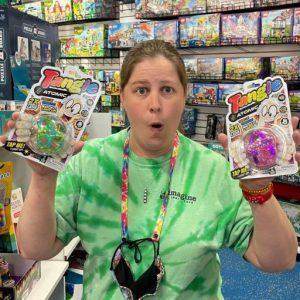 Ottenberg is passionate about spreading the love of toys. Here she is promoting Imagine That Toys' Friday "fidget" promotion. 

On this year's Small Business Saturday, Gwen Ottenberg says, "I wish it was a mindset for 365 days a year. We are your local toy store, and I am proud of that. I don't want customers to feel guilty if they choose not to go out on that weekend. We have lots of customers that are out of town or choose not to go out into the craziness that weekend. I am happy for them to choose to shop with me other times. Small business is every day of my life."
"To say that the past 18 months have been challenging for our small business owners would be an understatement. They have faced unprecedented challenges, from mandated shutdowns and layoffs to open job positions and supply chain issues," said Dan Murray, NFIB State Director in Kansas.
Small Business Saturday is an important reminder of how our mom-and-pop shops give back to our communities here in Kansas: not only do they create jobs and hire locally, but they are your next-door neighbors, the place you go to celebrate family birthdays, and the businesses that sponsor youth little league teams.
As the pandemic continues to throw curve balls at our small business owners, let's throw them some support this Small Business Saturday. The sooner our mom-and-pop shops get back on their feet, the sooner the economy here in Kansas can get back to business."