NFIB Iowa PAC Endorses Michael Bousselot in Special Election in House District 37
The NFIB Iowa PAC today announced its endorsement of candidate Michael Bousselot in the upcoming special election in House District 37. The general election will occur on September 14. The NFIB Iowa PAC, made up of Iowa small business owners and NFIB members, are excited to throw their support behind Bousselot, who is the former director of the Iowa Department of Management.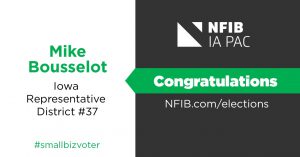 "The NFIB Iowa PAC is proud to endorse Michael Bousselot, who understands what small business owners are going through during this turbulent time," said Matt Everson, NFIB State Director in Iowa. "We need legislators in the Iowa House who understand that small business is the key to growing any economy. "That means continuing to cut Iowa's income tax rates, getting control of and lowering Iowa's high property taxes and helping Iowa's workforce shortfall with policies that will get people back to work and ready for the jobs Iowa needs. Mike Bousselot is someone who understands the challenges small business faces and will fight to make sure they are heard."
Bousselot said he is grateful for Iowa small business owner's endorsement, adding that "I am honored that Iowa's hard-working entrepreneurs have thrown their support behind me. If elected, I promise to always fight for the people who create opportunity and jobs here in Iowa. They are the backbone of our state's economy, and we need policies that will allow them to not just get by, but to grow and thrive right here in Iowa."
 The special election is being held after the death of Rep. John Landon last month.
The NFIB Iowa PAC's endorsement is important to this campaign. Small business owners and their employees vote in high numbers and are known for actively recruiting friends, family members, and acquaintances to go to the polls. NFIB's political support is based on the candidates' positions and records on key small-business issues.  
About NFIB 
  
For more than 75 years, NFIB has been the voice of small business, advocating on behalf of America's small and independent business owners, both in Washington, D.C., and in all 50 state capitals. NFIB is nonprofit, nonpartisan, and member-driven. Since our founding in 1943, NFIB has been exclusively dedicated to small and independent businesses and remains so today. For more information, please visit www.NFIB.com.