Tell us about your business. What is your business?    
Responsive Network Services LLC is an IT-services company that builds and protects the IT systems that small business leaders depend on for success.
When was it founded?
I started my small business in the summer of 1991 while I was still a student at the University of Illinois at Urbana-Champaign. 
How did you become a small-business owner?
Growing up in a small excavating company, supporting small business has been a part of my life for as long as I can remember.  Studying information technology and computer engineering in college gave me insights as to how IT can make small businesses more efficient.  The problem was that there were no companies specializing in helping small businesses succeed by using computer systems.  Our team started helping some local small business clients and the rest is history.  We still have our very first client from 1991 today.
How many employees do you have?
Our team numbers 6 which works out well for our style of approach.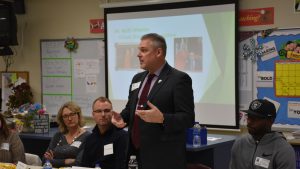 Why did you become an NFIB member?
NFIB is the voice of small business, and I wanted my voice to be heard in Washington and Springfield.  It also helps that my dad's business was a member as was my grandfather's.
What's the biggest challenge that faces local small-business owners like you?
Uncertainty is our biggest challenge.  We know that technology will always be changing and evolving, but that's not the uncertainty that challenges us – we actually enjoy the innovation.  Uncertainty in our cost structure with inflation at 40-year highs is challenging.  Uncertainty in the labor market is affecting our clients which has an impact on us as well.  Uncertainty in policy (and doubling down on failed policies) drives most of these problems in the first place.
How are you tackling that challenge in your own business?
Like every small business, when you're the leader, you lead.  We take our best guess and jump in with both feet.  We pay close attention to the news and adjust accordingly as we see opportunities and dangers appear.
From the policy angle, I took a more hands-on approach and ran for the state legislature and now have a seat at the policy table in our state capitol.  Using my small business experience, the first bill that I passed requires state agencies to remove unnecessary regulations every five years.  In the first review, more than 900 regulations were taken off the books.
What could help your industry grow?
The technology industry is certainly a growth industry, but I would like to focus on the increasingly important sector of small business I.T. cybersecurity.  Awareness of the risks and dangers that could take down a successful small and medium-sized business is vital to companies being prepared for the worst.
Who has been a small-business hero or mentor that has helped to shape your entrepreneurialism?
My father is my small business hero. His intensity and dedication to both his employees and his clients is still an inspiration.  Always looking through the eyes of others to improve the result of the project and the experience of everyone involved has guided me in my own small business career and all the way to the Statehouse.
What are you most proud about with your work in the community?
We have truly enjoyed our work in support of a growing and vibrant community in the Fox Valley.  Knowing that contributions to the local food pantry and other vitally important organizations, both in terms of financial and time commitments, have helped neighbors and their families during difficult times is both rewarding and humbling. 
What does it mean to be a small-business owner running for State Representative?
Every legislature in the country would work better if more small business owners were actually on the chamber floor casting votes, but even more so in committee hearings where asking the right question and offering real-world small business experience can stop harmful legislation from proceeding or provide the basis for amendments that would limit the negative impact to small businesses.  Small business owners have an extremely valuable role to play in the legislative process and being a small business owner myself has given me the ability to be a strong voice for small business at every step of that process.
What do you hope to accomplish during your time as a State Representative?
Illinois should be a national leader for small business formation and growth, but our state's policies instead turn business away and make Illinois a difficult place to start and run a business.  We have everything we need to succeed: centrally located crossroads of the nation with great universities, the best farmland on the planet, an incredible workforce, and a world-class city.  My goal is to see Illinois become the small business destination in the U.S. with record new start-ups and a continual inflow of high-paying jobs that can support families – all driven by business and tax reforms that put Illinois at the top of the list of states where small businesses succeed.