25th District Assemblyman Brian Bergen (R) and Assemblywoman Aura Dunn (R) also earn NFIB's endorsement
(TRENTON, NJ) – The National Federation of Independent Business (NFIB), the nation's leading small business advocacy group, officially conferred its endorsement on state Sen. Vin Gopal (D-11th District) at a local small business in Neptune on October 11th. NFIB New Jersey State Director Eileen Kean was on hand for the announcement, which was issued by the NFIB New Jersey PAC, the state's most influential and effective small business political action committee.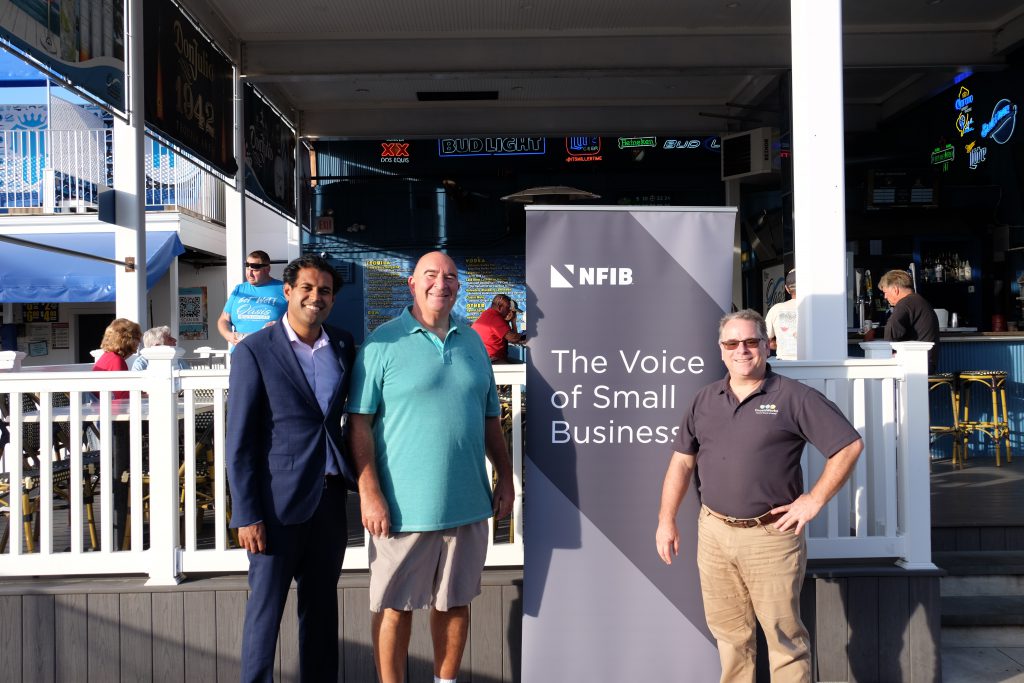 Sen. Vin Gopal with NFIB members Tom Sueta and Victor Coppola
"It is more important than ever for small business owners to rally behind candidates who support them, and state Senator Vin Gopal has been a friend of Main Street businesses in Trenton," said Kean. "With small businesses across New Jersey damaged and still threatened by the COVID-19 Pandemic, it is vital that the Voice of Small Business is heard on Election Day."
"Senator Vin Gopal consistently stands up for small business owners and their employees in the legislature, and they will stand up for him with their votes," continued Kean. "Vin Gopal is the pro-small-business candidate for New Jersey Senate in the 11th District."
Sen. Gopal's endorsement took place at The Headliner Oasis, an NFIB-member restaurant and nightclub, located in Neptune at 1401 Route 35 South. This backing from small business owners is part of a bipartisan NFIB slate of candidates for the New Jersey Senate and General Assembly in the November election.
The following day, on October 12th, NFIB State Director Eileen Kean conferred NFIB's endorsement on 25th District Sen. Anthony Bucco (R), Assemblyman Brian Bergen (R), and Assemblywoman Aura Dunn (R). At the event in Mountain Lakes, Kean lauded the strong, pro-small-business record of the lawmakers.
"The residents of the 25th District are very fortunate to have such outstanding and effective representation in Trenton," said Kean. "Senator Anthony Bucco has been a true friend of Main Street businesses, first in the Assembly and now in the Senate. His leadership is appreciated by small-business owners across New Jersey."
"Both as the owner of a business and being around my father's manufacturing business for decades, I understand the daily challenges of making ends meet," said Sen. Bucco. "Just last month, I was the first to call out the governor for sneaking through a tax increase that would've hit our business owners hard. I'm proud to have the support of NFIB, and my door is always open to the business community, for problems large and small."
Kean continued: "Brian Bergen and Aura Dunn have quickly proven themselves champions of small businesses owners, employees, and their families. Bergen and Dunn are strong advocates for Main Street, our communities, and economic recovery. Fellow NFIB members are proud that Brian Bergen is serving the citizens of the 25th District and fighting for free enterprise and job growth."
"As one of the few small business owners in the legislature, I personally understand the various challenges that a small business has to overcome just to stay afloat," said Assemblyman Bergen, an NFIB member. "The pandemic made these challenges even more difficult, and I'm proud to have used my voice in Trenton to fight for small businesses across the state when others seemingly forgot about them. I will always stand up for small businesses during both good times and bad times and will never forget that they are the core engine of our economy."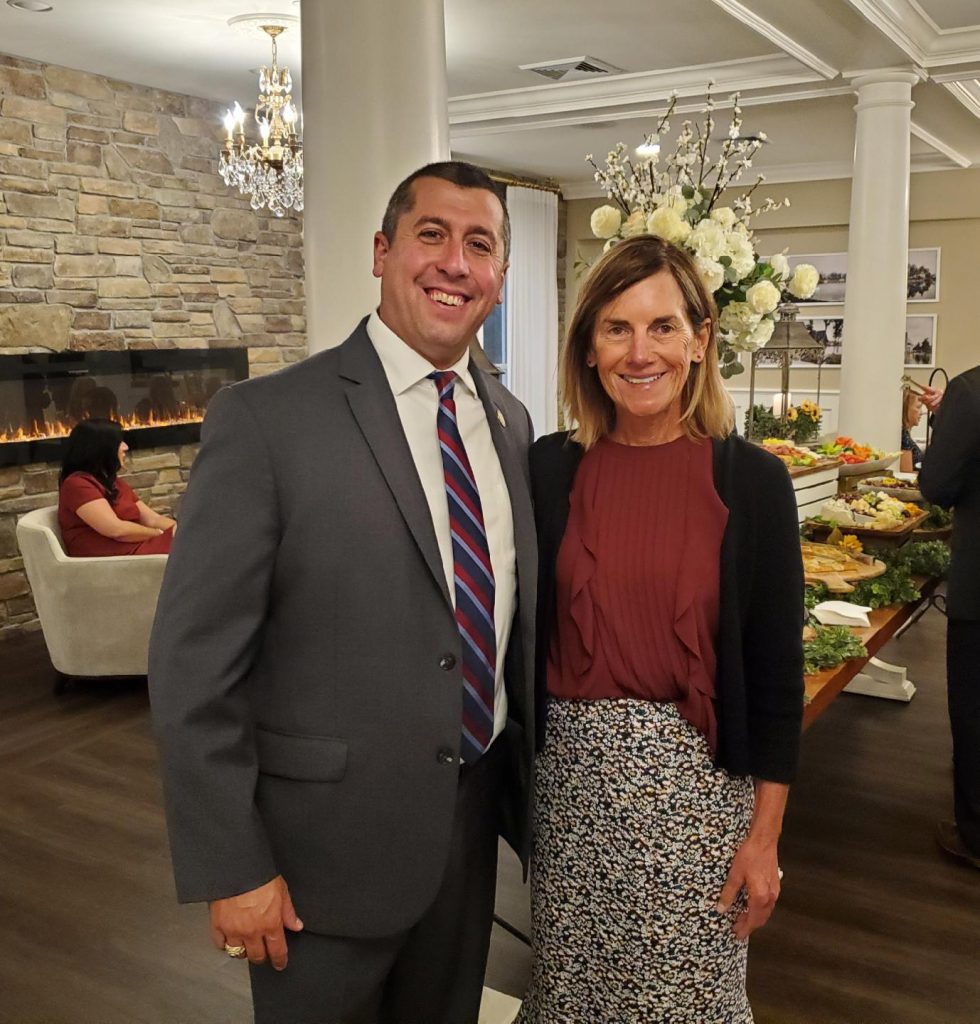 NFIB member & Assemblyman Brian Bergen (R-25th) and State Director Eileen Kean
"It's been a difficult time for New Jersey small businesses, as they were hit hard these past 18 months," said Assemblywoman Dunn. "I am steadfast in my pro-business stance and will never shy away from doing the right thing and fighting for the rights of our small business owners. Quite simply, small businesses build strong communities, which build strong families."
The endorsements of Sen. Gopal, Sen. Bucco, Assemblyman Bergen, and Assemblywoman Dunn were based on NFIB member input and the 2020-21 NFIB NJ Voting Record of issues that went before the New Jersey Legislature. Members have received in the mail the NFIB Voter Guide on candidates endorsed by NFIB, which is also available online.
NFIB NJ PAC's endorsement is important in this campaign. Small business owners and their employees vote in high numbers and are known for actively recruiting friends, family members, and acquaintances to go to the polls. NFIB is encouraging its members in New Jersey to help turn out the small-business vote during early voting and on Election Day.
###
For more than 75 years, NFIB has been the voice of small business, advocating on behalf of America's small and independent business owners, both in Washington, D.C., and in all 50 state capitals. NFIB is nonprofit, nonpartisan, and member-driven. Since our founding in 1943, NFIB has been exclusively dedicated to small and independent businesses and remains so today. For more information, please visit www.NFIB.com.