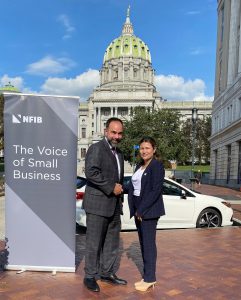 HARRISBURG, October 4, 2021 — NFIB PA PAC, the state's most influential and effective small business political action committee, today announced its endorsement of Commonwealth Court Judge Kevin Brobson for election to the Pennsylvania Supreme Court. Judge Brobson's election is not only critical to small business owners, but also to protecting free enterprise across Pennsylvania.
"On behalf of all NFIB members and small business owners across Pennsylvania, we look forward to supporting Judge Brobson throughout his candidacy," said NFIB PA State Director Greg Moreland. "As a current member of the Commonwealth Court, Judge Brobson has shown his ability to fairly interpret the law as intended by its writers. Judge Brobson is a thoughtful, intelligent, and experienced jurist who will serve the Commonwealth exceptionally."
Judge Brobson went to college and law school in central Pennsylvania and then clerked for a federal judge in Philadelphia, before becoming an associate with Pittsburgh-headquartered Buchanan Ingersoll & Rooney. There, he stayed in private practice for 14 years, working in commercial litigation and administrative law, eventually becoming a shareholder and practice group chair in the firm.
Since 2010, Judge Brobson has served on the Commonwealth Court of Pennsylvania, a statewide intermediate appellate court, one step below the Pennsylvania Supreme Court. The Commonwealth Court is entrusted with the important responsibility of ensuring that government, at all levels, follows the law.
"We are very pleased to support Judge Brobson's candidacy, and we look forward to his well-deserved victory in the upcoming election," added Moreland. "NFIB will work hard to make sure the Voice of Small Business is heard."
NFIB PA PAC's endorsement is important in this campaign. Small business owners and their employees vote in high numbers and are known for actively recruiting friends, family members, and acquaintances to go to the polls. NFIB will encourage its members in Pennsylvania to help turn out the small-business vote in early voting and on Election Day. 
###
NFIB PA PAC is the affiliated political action committee for the National Federation of Independent Business (NFIB PA). NFIB is the nation's leading small business association, representing members in Washington, D.C., and all 50 state capitals. Founded in 1943 as a nonprofit, nonpartisan organization, NFIB's mission is to promote and protect the right of its members to own, operate, and grow their businesses. For more information, please visit nfib.com.