NFIB's virtual Fly-In took place last week for the second year in a row. Ordinarily, NFIB members travel to Washington, D.C. each summer to meet with lawmakers and their staff on Capitol Hill to discuss issues that are most important to small businesses. This year, Iowa members had the opportunity to meet with U.S. Rep. Ashley Hinson during the Fly-In.
"When I look at our communities and how we're going to remain vibrant, it's because of our small business communities. I'm honored to represent a state that is such a business-friendly environment and so I'm going to be an advocate every day trying to support policies that are pro-business because being pro-business is being pro-family, it's being pro-worker," Hinson said.
Rep. Hinson joined several NFIB Iowa members and discussed important issues facing small businesses such as the labor shortage, proposed tax increases, the PRO Act, and the Main Street Certainty Act.
NFIB member Steve Boal, CFO of Accumold, a small business in Ankeny that molds micro-sized plastic parts for electronic, optic and medical devices, explained to Rep. Hinson how President Biden's tax proposal would be hurtful for his business, especially doubling capital gains and the possibility of repealing step-up in basis.
NFIB member Kevin Jacobson, small business owner of Central Iowa Televising, also expressed his worries about proposed tax increases and urged Rep. Hinson to keep fighting to pass the Main Street Certainty Act, which would make the small business deduction permanent. Jacobson's business owns TV trucks to transfer video to see how damaged your pipes are and what kind of gunk is stuck inside them. He then removes that gunk with his 13 employees. You can read more about his story here.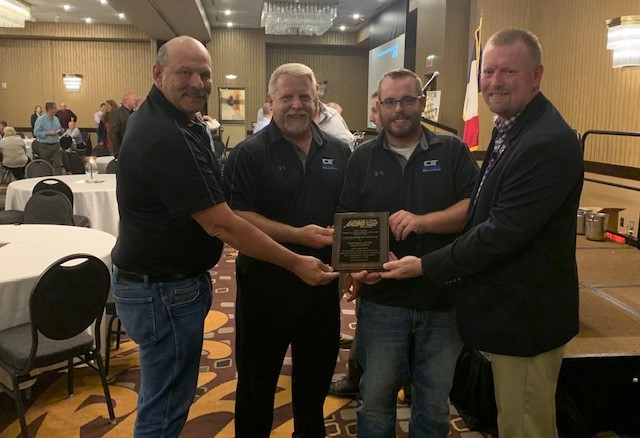 Kevin Jacobson and his son accept an excellence award for operating their Iowa small business. 
"Rep. Hinson is a proven advocate for Iowa's small businesses, and our members thank her for taking the time to address our pressing small business issues," said NFIB Iowa State Director Matt Everson. "Small businesses are still working hard to recover from the pandemic. Rep. Hinson understands the importance of passing pro-small business legislation that will help Iowa's entrepreneurs to create even more jobs here in Iowa. We look forward to continuing to work with Rep. Hinson to help continue to keep Iowa's economy as one of the strongest in the country."
Click here for more information on NFIB's virtual Fly-In.