Governor Signs NFIB Priority Bill on Tax Licenses
Local governments can no longer demand you buy a sales tax license from them as a precondition to remitting to them sales tax money you've collected in their jurisdictions
Sales tax collection and remittance in Colorado, both for everyday transactions for goods and services and for online purchases, have been a bit of a national embarrassment. What else could anyone expect from having 700 governmental taxing entities in the state?
Simplifying and streamlining the system would not only produce reliable and predictable revenue streams for local governments but also substantially unburden small-business owners of the paperwork hours needed to comply.
"The wholesale changes needed in our sales tax system have proved elusive, so we're delighted when incremental measures come along that help," said NFIB Colorado State Director Tony Gagliardi, who was at Gov. Jared Polis' April 21 signing ceremony for Senate Bill 32.
SB 32 prohibits local governments from demanding a sales tax license be bought from them before a business can remit the sales tax it collected in their jurisdictions, provided that business does not have a physical presence in the taxing district. "Small-business owners simply don't have the personnel or time to buy hundreds of sales tax licenses from various jurisdictions just for the privilege of giving them money," said Gagliardi.
Gagliardi also noted that at a time of deep political polarization, it was refreshing and heartening to see SB 32 pass with bipartisan support. "I'd like to thank our coalition partners at Simplify Colorado Sales Tax, State Sens. Jeff Bridges and Rob Woodward, State Reps. Cathy Kipp and Kevin Van Winkle for their legislative leadership on this bill, and Governor Polis for signing SB 32 in law."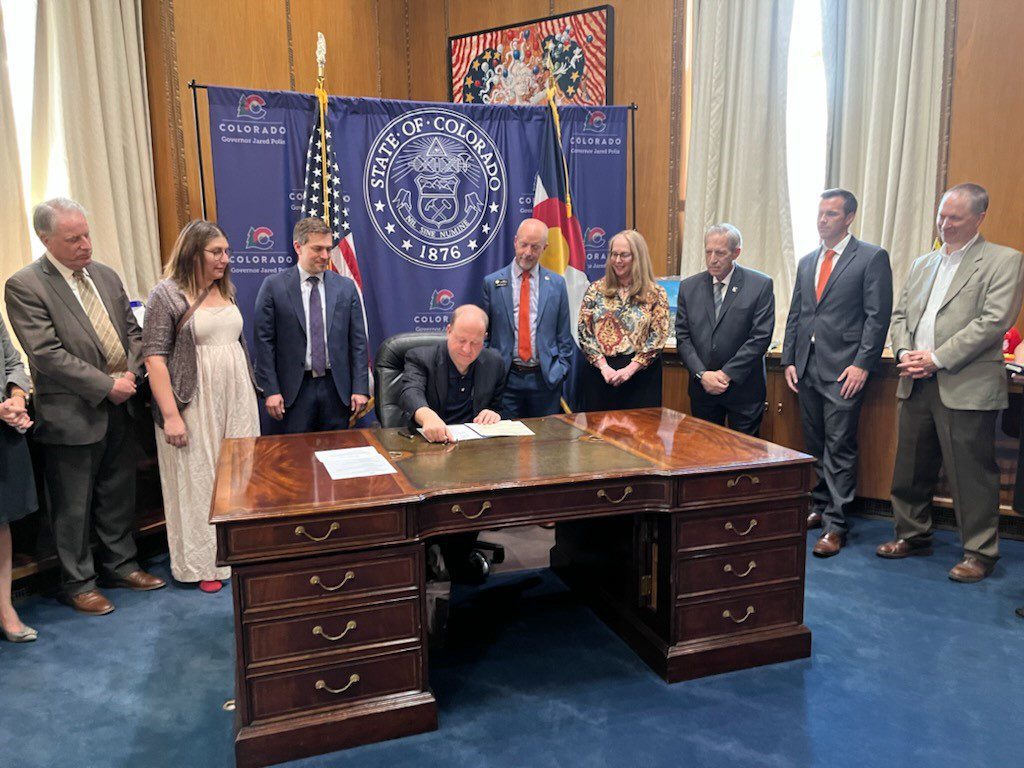 NFIB Colorado State Director Tony Gagliardi, third from right, attended the signing ceremony for Senate Bill 32