Conforming state's tax code to federal government's on PPP loans a huge financial benefit
FOR IMMEDIATE RELEASE
Contact: John Kabateck, California State Director, John.Kabateck@nfib.org
or Tony Malandra, Senior Media Manager, Anthony.Malandra@nfib.org
SACRAMENTO, Calif., April 29, 2021—One of small businesses' highest priorities is now law, after Gov. Gavin Newsom signed Assembly Bill 80 this afternoon.
According to legislative analysis of the bill, it "Conforms, with certain modifications, state law to federal law with respect to the tax treatment of Paycheck Protection Program (PPP) loans and Economic Injury Disaster Loan (EIDL) advance grants under the Coronavirus Aid, Relief, and Economic Security (CARES) Act and the Consolidated Appropriations Act of 2021." Read the staff's full analysis here. Click the top link.
"This law gives small-business owners more clarity, certainty, and security as Main Street begins to thaw from the COVID-19 freeze this past year," said John Kabateck, California state director for the National Federation of Independent Business (NFIB), the state's largest small-business association. "We thank Governor Newsom for his support and approval of it. The law is especially timely as small employers are now huddling with their CPAs assessing their taxes. This tax relief could not have come a moment too soon. It, combined with the looming June 15 general reopening, will help to ensure California's mom-and-pop enterprises are getting back on their feet, men and women are returning to work, and our communities and public services are thriving once again."
AB 80 passed the State Assembly on a 75-0 vote and the State Senate, 37-0.
Keep up with the latest on California small-business news at www.nfib.com/california, where this release can also be read, or by following NFIB on Twitter @NFIB_CA or on Facebook @NFIB.CA.
###
For 78 years, NFIB has been advocating on behalf of America's small and independent business owners, both in Washington, D.C., and in all 50 state capitals. NFIB is a nonprofit, nonpartisan, and member-driven association. Since its founding in 1943, NFIB has been exclusively dedicated to small and independent businesses and remains so today. For more information, please visit nfib.com.
NFIB
1130 K St. Suite 150
Sacramento, CA 95814
916-448-9904
www.nfib.com/CA
Twitter: @NFIB_CA
Facebook: @NFIB.CA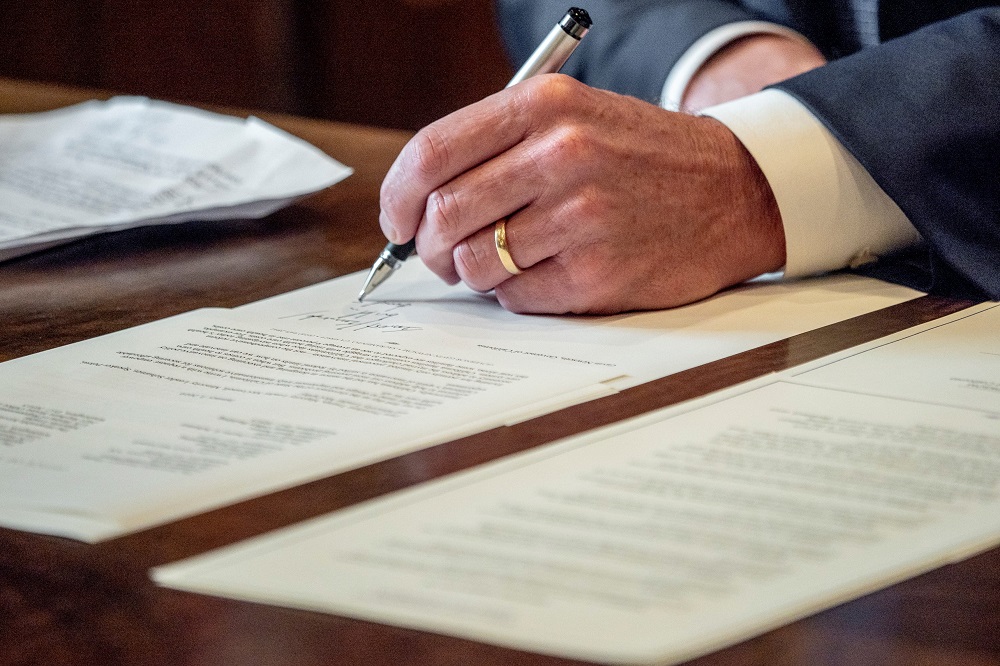 Photo courtesy of Gov. Gavin Newsom webpage