Inflation pressure eases from July but remains huge challenge
NFIB's monthly Small Business Economic Trends (SBET) report shows that small businesses continued to struggle with inflation in August, with 29% of owners reporting that inflation was their top business problem. Although historically high, this is a significant eight-point decrease from July's reading, which was the highest since 1979. The monthly report also saw the NFIB Small Business Optimism Index increase 1.9 points to 91.8.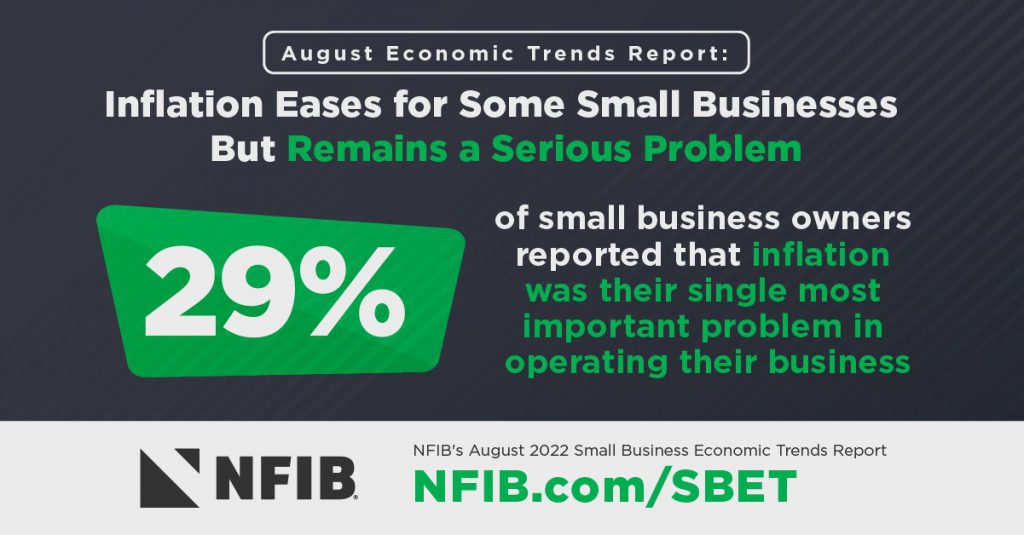 Meanwhile, NFIB's August 2022 Jobs Report noted that 49% of all owners reported job openings they could not fill in the current period, only slightly lower than the record-high numbers from May and September 2021. The number of unfilled job openings is more than double the 48-year historical average of 23%. 
"The small business economy is still recovering from the pandemic while inflation continues to be a serious problem for owners across the nation," said NFIB Chief Economist Bill Dunkelberg. "Owners are managing the rising costs of utilities, fuel, labor, supplies, materials, rent, and inventory to protect their earnings. The worker shortage is impacting small business productivity as owners raise compensation to attract better workers." 
Down one point from last month, 63% of owners report hiring or trying to hire in August. Eighty-nine percent of said owners reported few or no qualified applicants for the positions they were trying to fill. The demand for especially skilled labor remains high: 41% of owners have openings for skilled workers while 24% have openings for unskilled labor.
Inflation pressure has led employers to raise compensation to entice new employees, although at a lower rate than last month. A net 46% of owners reported raising compensation, down two points from July and four points down from January's 48-year record high reading. Additionally, a net 26% plan to raise compensation in the next three months. In addition, the net percent of owners raising average selling prices decreased three points to a net 53%, still historically high. 
The SBET report noted that small business owners expecting better business conditions over the next six months is a net negative 42%. While this is a 10-point increase from July and the highest level since February 2022, it is still dismally low by historical standards. Similarly, the net percent of owners who expect real sales to improve increased 10 points from July to a net negative 19%,
Read the complete August 2022 Jobs Report here, and a news release on the report is here. The complete SBET report can be read here, and the news release here.