Small business optimism increased slightly in July, but inflation continues to be the top-cited problem facing owners
Inflation continues to impact Main Street and in NFIB's monthly Small Business Economic Trends (SBET) report, the number of small business owners citing inflation as their most important business problem remained at its highest level since the fourth quarter of 1979. The July report also shows the monthly NFIB Small Business Optimism Index increased slightly, from 89.5 in June to 89.9 in July. It remains below the 48-year average of 98 for the sixth consecutive month. 
"The uncertainty in the small business sector is climbing again as owners continue to manage historic inflation, labor shortages, and supply chain disruptions," said Bill Dunkelberg, NFIB Chief Economist. "As we move into the second half of 2022, owners will continue to manage their businesses into a very uncertain future."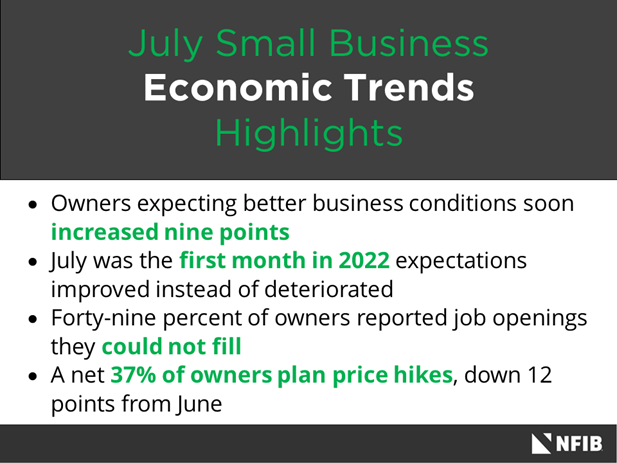 Thirty-seven percent of owners report that inflation was their single most important business problem in July, a 3-point increase from June and by far the most commonly-cited top problem for owners. Twenty-one percent cited labor quality as their top business problem, while 9% said labor costs.  
"NFIB has been surveying a sample of our membership for 48 years and inflation right now is the top concern for about a third of small business owners out there," said Holly Wade, Executive Director of the NFIB Research Center, during her presentation at CNBC's Small Business Playbook event. "And if it's not the number one issue that they're facing in operating their business, inflation is substantially or moderately impacting business operations for most of them. So, it's a huge concern and they are still having to navigate this in their day-to-day operations. It's certainly ramped up since the beginning of the year and most don't see much end in sight or easing of this problem. So, they're still facing this huge challenge in front of them in trying to manage those costs." 
July's Small Business Economic Trends report showed an increase in expectations for better business conditions for the first time in 2022. A net negative 52% expecting better business conditions over the next six months, a nine-point increase from June. In addition, the net percent of owners who expect higher sales in the near future decreased one point from June to a net negative 29%. 
The hiring crisis continues with 49% of owners reporting job openings that could not be filled, a decrease of one point from June but historically very high. The net percent of owners raising average selling prices decreased seven points to a net 56%. A net 37% plan increasing prices soon, a significant decrease of 12 points from June. 
To learn more about the Small Business Economic Trends report for July 2022 you can read the full report here, and see this news release summarizing its key findings.