Many Small Businesses On The Brink
With Election Day over, small businesses across America are calling on Congress to put politics aside and turn to urgently needed policies. Chief among them: Millions of small businesses need another round of targeted federal financial assistance.
According to a new survey from the NFIB Research Center, 90% of small businesses that received federal loans, eligible for forgiveness, through the Paycheck Protection Program (PPP) have spent the entire loan. About 75% of small businesses would apply or consider applying for a new PPP loan if given the chance, indicating the widespread need for further recovery support.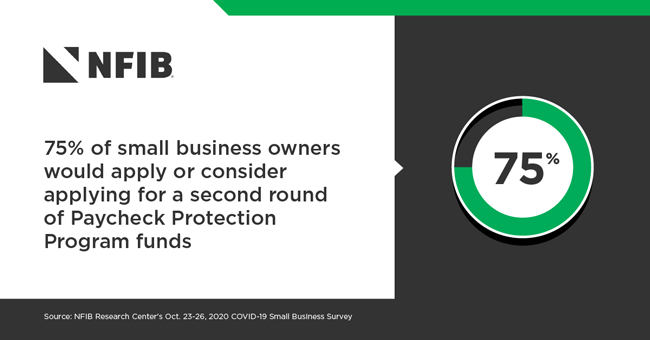 "Congress has an opportunity and an obligation to save millions of small businesses," said Holly Wade, executive director of NFIB's Research Center. "Since small businesses account for nearly half of the private sector GDP and most of net new job creation, Congress needs to take action soon."
PPP loans have been essential for Main Street throughout the coronavirus pandemic. With government-mandated business restrictions and shifts in consumer spending, many small businesses have relied on federal assistance. Since virus cases are now rising again in many states, and with policymakers considering another round of shutdowns and business restrictions, small businesses will likely experience further financial troubles in the days ahead.
According to NFIB's new survey, small businesses will face tough choices if more recovery legislation is not forthcoming. Nearly 20% of PPP loan recipients expect to lay off employees without another loan. With 52% of borrowers expecting to need additional support in the next 12 months, the number of businesses forced to downsize could quickly grow.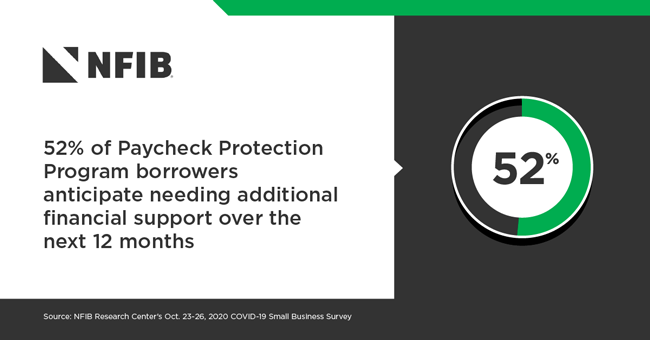 Even without further economic shutdowns, nearly 40% of small businesses expect a net operating loss in 2020 with another 22% still not sure if they will or not. For just over 20%, sales levels are still 50% or less than they were before the pandemic and economic crisis. Another 26% of small businesses are between 50 and 75% of sales.
Given these tough conditions, one-in-five (20%) of small business owners report that they will have to close their doors in the next six months if the economy does not improve. Another 19% of owners anticipate they will be able to operate no longer than 7-12 months.
These findings are especially concerning since nearly 60% of small businesses do not expecting a return to normal until 2021 at the earliest. Another 24% think the economy will not bounce back until 2022 – 14 months from now.
Holly Wade continued: "If things don't change for the better, nearly half of small businesses might not survive another year. Even if things do change for the better, most small businesses will still need help to make up for the losses forced on them by government restrictions and changes in consumers' habits."
Holly concluded: "With the election over, there's no excuse to delay any longer. Small business needs action now."
See the results of the new COVID-19 related NFIB Research Center survey.
Learn more about NFIB's fight for small business financial assistance.
Most importantly: Tell Congress why your small business needs more support now